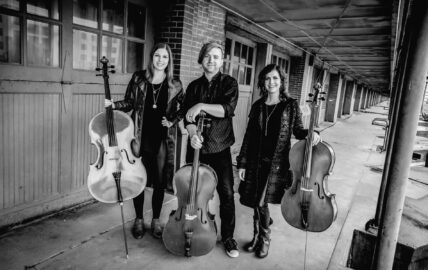 Continue reading New Year's Eve Package
Celebrate the New Year with Gateway Lodge and Cello Fury. Gateway Lodge presents a three-course holiday dinner with wine pairings and after-dinner entertainment around the Christmas tree.

Cello Fury, a talented trio of cellists from Pittsburgh, brings an energizing performance that fuses progressive rock and classical music. Performance follows dinner from 9-11 p.m., enabling guests to toast with champagne in their rooms for continued celebration.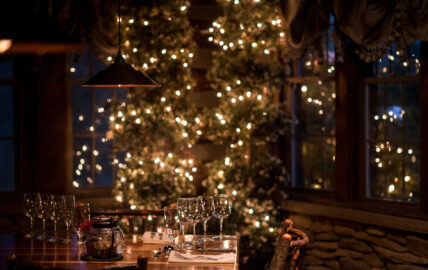 Arrive Friday afternoon at 4 p.m. for check-in. If you are looking for an extra-special dining option, decide to join us for dinner featuring fresh, sustainable dishes from Gateway's Wild Crafter's Kitchen Menu. On Saturday morning, venture out to one of Cook Forest's cross-country skiing trails. Cook Forest has three designated skiing trails, an ice-skating pond, and sledding slopes. Rentals for skis and skates are available at Cooksburg Dry Goods along River Rd.
Venture into Clarion for hot cocoa and lunch on Saturday at Michelle's Cafe. In town, you'll want to visit some of our guests' favorites: Dan Smith's Chocolates, F.L. Crooks & Co., Mechanistic Brewing Co., and the Clarion River Art Gallery. Cozy up by the fireplace for dinner at Gateway for another evening, enjoying scratch-made meals from the Wild Crafter's Menu.
Each morning, enjoy a delicious breakfast delivered to your room as part of your package. On New Year's Eve, a special room delivery of champagne will help you ring in the New Year after the evening's holiday dinner with wine pairings and after-dinner cello performance included with your stay.
On New Year's Day, America's State Parks participate in a "First Day Hike," a way for folks to begin the new year outdoors, exercising, and connecting with nature. Cook Forest State Park will host its first-day hike, so bring that hiking stick and be ready to join others for a morning outdoors. Monday morning check-out is at 1 p.m., so you'll have plenty of time to venture out before departing home.
Package Highlights
Three Nights in a Fireside Suite
Breakfast Delivered Each Morning
Three-Course Holiday Dinner with Wine Pairings
Live Cello Music by Cello Fury on New Year's Eve, 9—11 p.m.
In-Room Champagne with Keepsake Flutes